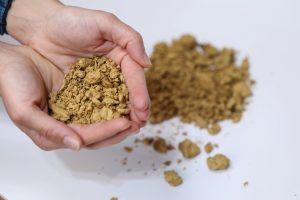 Nafici Group Limited ("NGL"), a leading circular economy business based in the South of England, today announced its partnership with Hive Energy, a large-scale renewable energy developer.
The partnership will see Hive Energy invest in Nafici Environmental Research Ltd ("NER") whose innovative, patented process converts agricultural waste – including wheat straw – into EcoPulp, a much more sustainable alternative to wood-based pulps in the production of paper packaging materials.
The shift away from non-biodegradable plastics into alternatives, which include paper, card and moulded fibre packaging and rely on wood pulp, comes at a significant environmental cost. Nafici's process bypasses the need for wood pulp, which is highly energy intensive, and harnesses the potential of agricultural waste – which is often incinerated or allowed to rot releasing CO2 – to produce EcoPulp.
EcoPulping uses up to 95% less water and consumes up to 50% less energy than traditional wood pulping. It can also be used to make food-contact grade moulded fibre packaging, while a mere 5-10% EcoPulp mixed with recycled material can strengthen it by 20 to 33 percent (Dongxin 2017 and UK 2021).
Following Hive's investment, NER plans to build its first full-scale EcoPulping facility in England, with a feasibility study and site search commencing imminently. Upon delivering the UK site, NER will seek to expand further using Hive Energy's international network and NGL's experience of building EcoPulping plants in China, the first of which is currently under construction in the country.
Florence Nafici, CEO of Nafici Environmental Research, said:
"We are delighted to be partnering with Hive Energy who will be a great strategic partner for NER's global development outside China and are fully aligned with our circular economy vision and values. With this partnership, NER will be even better positioned to meet the rapidly growing demand for non-wood fibres for use in moulded and paperboard packaging. It will also enable us to start the journey of significantly reducing the environmental impact of producing and transporting wood pulp around the world."
Giles Redpath, CEO of Hive Energy, said:
"Nafici Environmental Research is an innovative, low carbon business, which aligns with our mission to reduce carbon emissions. EcoPulp production has great potential to reduce the amount of moulded packaging made from plastic or wood-pulp, which is beneficial for the environment. The product has great functional qualities, and it is especially beneficial as it uses waste straw as a base product, which would otherwise be most likely incinerated or landfilled. This initiative further builds on our current circular economy partnerships, DBG Bioenergy in the Netherlands and Cuantec in Scotland, which also recycle industrial waste streams into exciting, valuable, and green products."
~END~
Additional Information: Nafici Environmental Research
For over 30 years our research has been dedicated to developing environmentally friendly processes to transform agricultural wastes into paper pulp. In 2013 our vision came to fruition with the development of Nafici EcoPulping, an innovative low carbon pulping process to transform any cereal straw surplus (wheat, barley, oat, rice) and other agricultural residues into unbleached paper pulp to be used to produce paper or packaging (cardboard, fluting, moulded packaging, food packaging etc).
Nafici designs small or large scale EcoPulping Mills that can be installed as independent units or retrofitted to an existing paper mill to produce marketable unbleached straw pulp to be used in all different types of paper or packaging products.
This new process not only reduces waste and carbon emissions but adds a significant new income stream to farm businesses which can sell the straw even with high moisture content (top bales).
Nafici Environmental Research Ltd, Tetherstones Stables, Horsham, West Sussex, RH13 6PE, Phone: +44 (0) 1444 400 476, Web: https://www.nafici-research.com/
Additional Information: Hive Energy
The Hive Energy Group, headquartered in the UK, is recognized internationally as a trusted large scale renewable energy developer that is known for its innovative approach and market leading vision across both solar energy and circular economy industries. Hive has established some of the world's largest solar plants and is establishing its patented technologies in Biochar Activated Carbon and Industrial Biomass Waste conversion.
Since 2019, Hive has taken a leadership position in Green Hydrogen and Ammonia project development in several countries including South Africa, Spain and Argentina.
Hive Energy was founded in 2010 by Giles Redpath to participate in the significant solar PV expansion in the UK and now operates from 22 countries globally, including South Africa, Spain, Portugal, Italy, Greece, Turkey, Argentina, New Zealand, Croatia and Serbia.
Hive has commissioned more than 100 grid connected Photovoltaic Solar plants ranging from small rooftop installations to super-parks over 400MW in size – in excess of 3000MW, with substantial growth in Spain recently.
Hive is currently developing over 10,000MW of renewable energy projects – including the UKs largest solar park and world's largest battery storage project with a very large pipeline in various stages of process. To date Hive has deployed over £1.6billion in green energy projects, saving 2,135,237 tonnes of CO2 in 2021 alone.
Contact
Jodie Alesbury – Marketing Manager
Hive Energy, Woodington House, East Wellow, Hampshire, SO51 6DQ,
Web: https://www.hiveenergy.co.uk/
Phone: 07464 944 687
Email: jodie.alesbury@hiveenergy.co.uk